08 March 2014
I'm not sure I have ever mentioned it, but the soundcard in my PC is not just any sound card. I'm using the Creative SoundBlaster X-Fi Fatal1ty Champion (link is to it's successor). This card was when I bought the best one on the market. And though already a couple of years old, it still is an excellent card. I use this card together with my JBL Creature II speakers. Though these speakers are not the best out there, they have a pretty good range and pretty clear sound.

Alternatively, I'm using the on-board (AC97 based) soundcard in conjunction with a Technics SU-700 amplifier and BeyerDynamic DT990 headphones (link to latest version of the headphones - I bought mine back in '89
). Both are pretty old (*AHUM* almost antiques) but perform definitely excellent. Sadly I have some pretty crappy speakers (Interaudio by Bose) attached to the amplifier, but I hardly use those.

Since I started on sampling music yesterday I felt the need to move the amplifier to my SoundBlaster card. I mean, why sample music on the worse soundcard available, but use a pretty neat amplifier and headphones? Exactly, no use for that!

Luckily I still had an old (again, VERY old) tape monitor switch, allowing to attach 2 (tape) monitors to an amplifier for dubbing tapes (Hmm... There's a lot of younger readers here. Let me search for a link to a cassette tape
). I could use this one to switch output from my PC to either the JPL speakers or the amplifier. Some rewiring at the back of the PC, speakers and amplifier and done!

Now I can sample music with the SoundBlaster card using my kick-ass headphones on the amplifier. As expected, the output of the music through the amplifier now is a lot better than it was on that old (crappy) AC97 on-board soundcard - A LOT BETTER!

An other positive thing is that I can not easily switch from speakers to headphones without too much trouble. In the past I had to open the Windows playback devices list and set either one as default. Though easy, not all games were all too happy about that switch and refused to output to the newly assigned soundcard...


Post A Comment! :: Permanent Link

07 March 2014
I've been programming for 30 years now, and during that time I've made a couple of nice tools and utilities, but mostly because I felt the need for them myself. But since November 6th, 2013 I've started making games. This time not just for me, but to publish and for others to enjoy. That game is TetraGems, and by now I'm close to it's final stage. But with TetraGems close to being a finished game, I've already been busy on other projects and experiments to fill the void for when TetraGems is actually released.

Last week I've purchased RPG Maker VX Ace as possible new project platform. Though RPG Maker VX Ace looks easy, it allows the creator of the RPG to make it as difficult as he wants. With my brother having it as well (early b-day present), we're both thought to make a big project together. Of course we don't want to be too dependent on the available resources, and might make our own.

Part of not willing to be too dependent on the available resources is making your own. I know I've said in the past that making graphics and music is not really what I'm good at, but last week I've been looking around for programs I could use for that.

It's a good thing Steam has added a huge application library last year. There you can find lots of good tools for both graphics and sound. Sadly though, all these programs are pretty 'above our budget' (which is close to non-existing
). But with The Pirate Bay available again, I have downloaded some of those tools to review their usefulness. And that's where the addiction of creation really hit me!

The first thing I downloaded was MAGIX Music Maker 2014 Premium. I always thought this was a bad program, but it's not. Only their licensing system sucks balls (pay double for a package to distribute your creations commercially
), but the software is pretty powerful and easy to use. It took me only about 15 minutes to make a sound file of 1 minute that could easily be used as background music (looping) for a RPG game.

Of course, this first 'composition' asked for more. I really want to buy MAGIX Music Maker 2014 Premium now and start making my own music for both my own games and those I make with my brother. But sadly, I don't have the money right now (around €130, inc. the commercial license) to buy it. At least I have something to make my savings for now and look forward to.

I've also been looking at more resources for Music Maker. There are about 10 DVDs available with additional music resources for about €50 each (again inc. the commercial license). But I think if I really do my best I can make some real good music for other indie game developers as well, make some money and use that to buy these additional resources

Post A Comment! :: Permanent Link

06 March 2014
I don't know if you're familiar with SteamGifts, but it's a great site with a great concept. Basically, the users of the site (you must have a Steam account to join) create giveaways and you can participate in the giveaway. But the more users participate in the giveaway, the smaller the chance to win.

I've been a member for this site for about 4 to 5 months now. Back then the site was already busy, but I still was able to win from time to time (not counting the winnings from the closed groups I'm in). And the huge giveaways by indie developers had about 3.000 to 5.000 participants.
These days though, the site is immensely popular. Regular giveaways (even the ones from cheap bundles) running for only a couple of hours get over 500 participants, while the huge giveaways get over 20.000 participants


These numbers come with a price. For SteamGifts it's clear that their host isn't up for this much traffic and the site has lots of connection problems, database errors and maintenances to keep the site up and running. During the evenings (my EU evenings that is
) it's no use for me to even try and browse through the giveaways hoping for something nice that I might have a chance of winning. First off, the huge number of connection problems make it already a pain (my F5 key is wearing off by now
), and the number of participants is just way too high - around this time an average of 900 per giveaway


It also makes me wonder (in general) if giveaway sites like this are still worth my time. With little to no chance to win, and most giveaways being left overs from bundles, the pickings are pretty slim. The same goes for the groups I'm in. Most of that's offered I either have already (from a bundle most of the times), or I'm just not interested in it. The only reason I remain in these groups is because I still have 'credits' to win and all I do is wait for them to run out and then I'll leave.

Post A Comment! :: Permanent Link

05 March 2014
I have already said that The Elder Scrolls online looks very good. I mean, the graphics and sound pulls you really into the game. It just all makes sense! It was only until I left the starter that I noticed theamount of detail that Zenimax had put into the game.

Just look at the (small) video below. There you see the Dwemer spider that one of the NPCs you worked with. As you probably know, Dwemer are an ancient race that had a pretty technologically advanced. Not only for the Elder Scrolls world, but I think they are in some ways technologically more advanced than we are today.




But anyhow, that spider is clearly mechanical in nature. But when you look close to the spider, you see all gears running and other mechanical stuff working. I really through the spider was complete and very believable as it was presented.

I am not sure if these spiders will pop up by the masses later on in the game. If they do, then it might cause some performance issues to keep all the gears running. On the other hand, when I was on a quest to get stuff to fix this spider, I was attacked by a couple of them. This might mean that the performance loss is minimal, while the eye for detail is quite high...


Post A Comment! :: Permanent Link

02 March 2014
Gathering in the Elder Scrolls online is quite the same as you're used with the single-player Elder Scrolls games. You just peek in a crate, barrel, sack or any other container and if you're lucky you find some materials.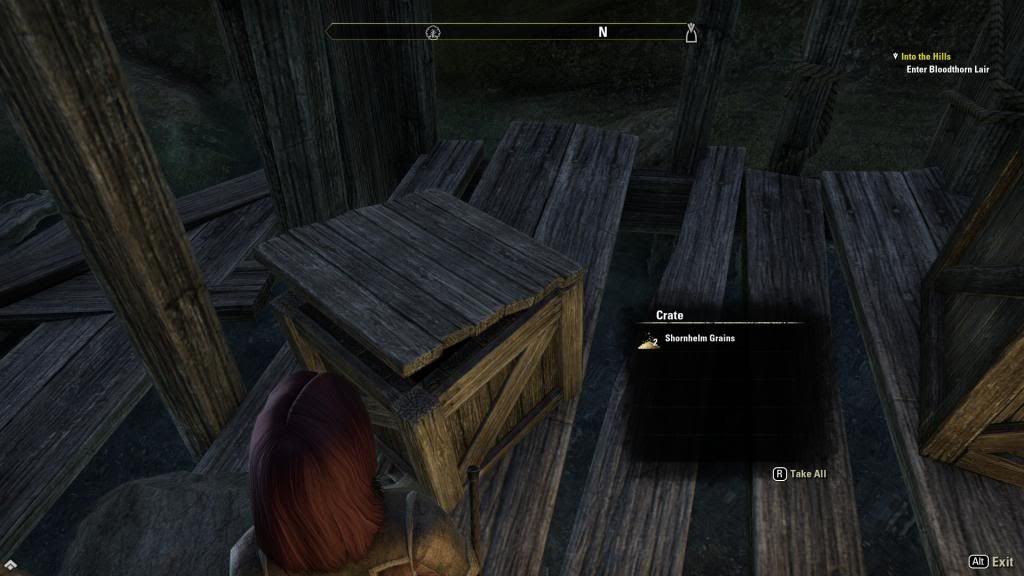 This system results in a huge amount of normal (white quality) materials. If you want less common materials, you have to look around you in the fields. There you'll find the less common materials such as special herbs, wood, jute and metals. Problem there is that some of these materials stand out more than the others do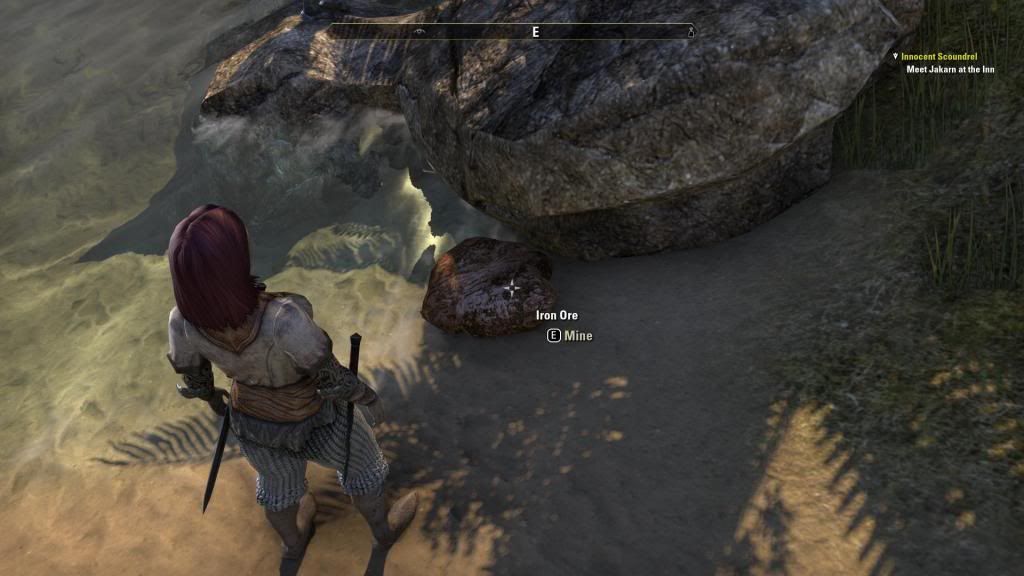 As you can see in the above 2 pictures, the jute plant is far more obvious to notice than the iron ore node is. The same goes for the maple I was lucky enough to find. That resource also doesn't really stand out in the surroundings, though it's easier to spot than iron is. As a result I have loads of jute now, which I don't really use because I'm not a light armor (robes) wearing class, while I have close to no iron and maple.

After you have gathered your resources, you can start to craft. Crafting falls into two parts I have noticed.

For blacksmithing (armor and weapons) you don't need a lot of recipes (none?), but you have to research new and better recipes. Since I don't have enough iron ore to make nuggets (you need 10), I can't even start researching at all. I am also missing the knowledge to make the gear I want according to some region's traditions (damn, I forgot to make a screenshot of that one).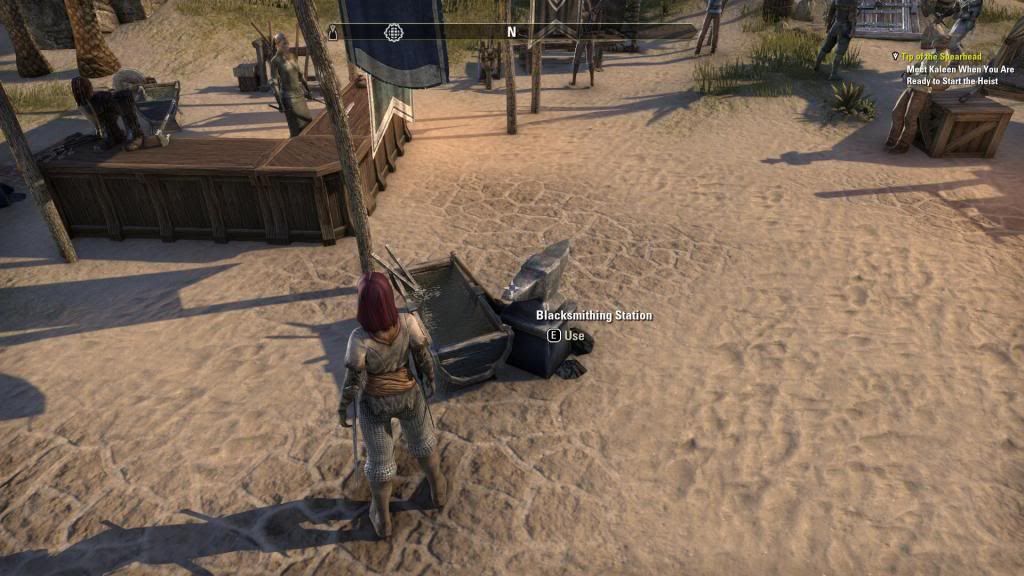 Cooking (and brewing) is an example of the other kind of crafting. You need to find (or buy) recipes of the things you want to craft. I'm not sure how common these drops are, but I do have 4 recipes already in my cookbook.



Crafting the recipe is pretty simple. Just have enough materials and you're ready to make your stuff! The 4 recipes I spoke about are all pretty basic food and potions that you can use during your 'daily adventuring' efforts. They last for 35 minutes (talking about an odd buff duration!) and you easily can make dozens of them after you have been nosing a bit through boxes and barrels


I can't comment yet on the other crafting disciplines there are in ESO, but I guess that those will be quite the same in basic as blacksmithing and cooking as described above...

Post A Comment! :: Permanent Link

01 March 2014
With the NDA dropped I can finally write about the Elder Scrolls online and post pictures and movies. Therefor I will start with my first impressions. Well, first..? This week is yet an other beta weekend, and it's my 3rd one already. But even though I have played already for about 20-30 hours, I still think my thoughts on ESO now are the same as when I first started to play...



Let me start with the most important thing. ESO is much like the last 3 Elder Scrolls titles. The graphics is just stunning and the sound very well done. And speaking about sound, much like with the Final Fantasy franchise, the main theme is used in ESO as well. And though we all know that tune by now, I still think it's a very good one and it just can't bore me (unlike the FF main tune
)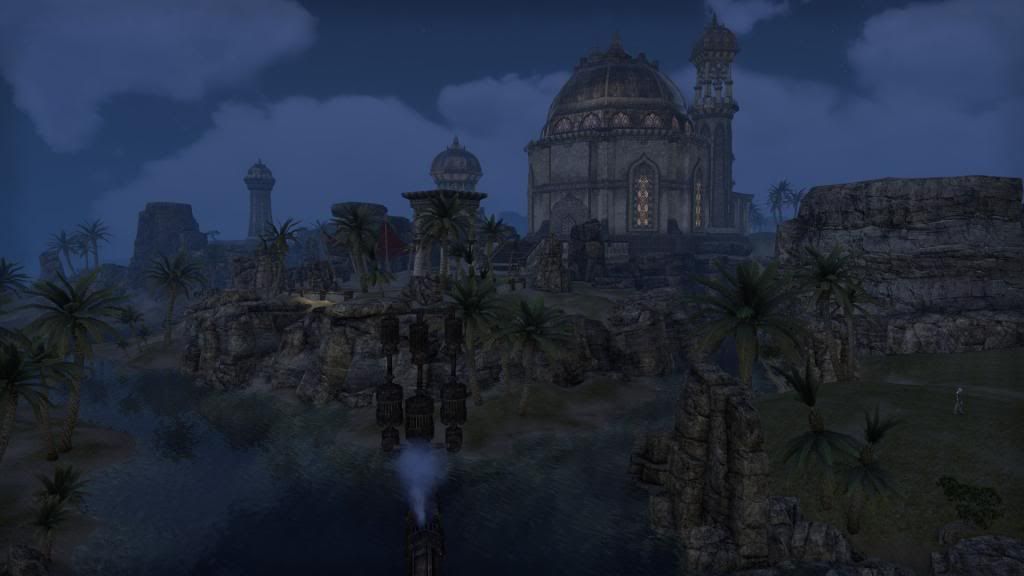 And like the other Elder Scrolls titles, ESO also gives you a lot of freedom in the game. Character progression is a good example. Though it's not as free as the single-player RPGs, you can make your own character with it's own characteristics. And take into account that you can only slot 5
skills, you really have to pick your skills and how you build them carefully.



Also worth to note that much like the single-player games you level most of your skills by using them. Though I had one instance where I ended one quest and leveled half a dozen skills at the same time. I'm still not sure if the quest gave general XP for all skills, or the skills I used during the quest leveled appropriate to their usage during that quest...

For today the last thing to review is storage. You just don't have enough of it! You start with only a 50-slot inventory and with all the resources you can gather and gear you pick up it's filling up very fast. At times you have to just destroy some times only because you're in the middle of nowhere and really want that one drop. Sadly though, expanding your bags doesn't come cheap. 400 gold might sound cheap, but I only had 650 gold at level 6, using it for gear instead of storage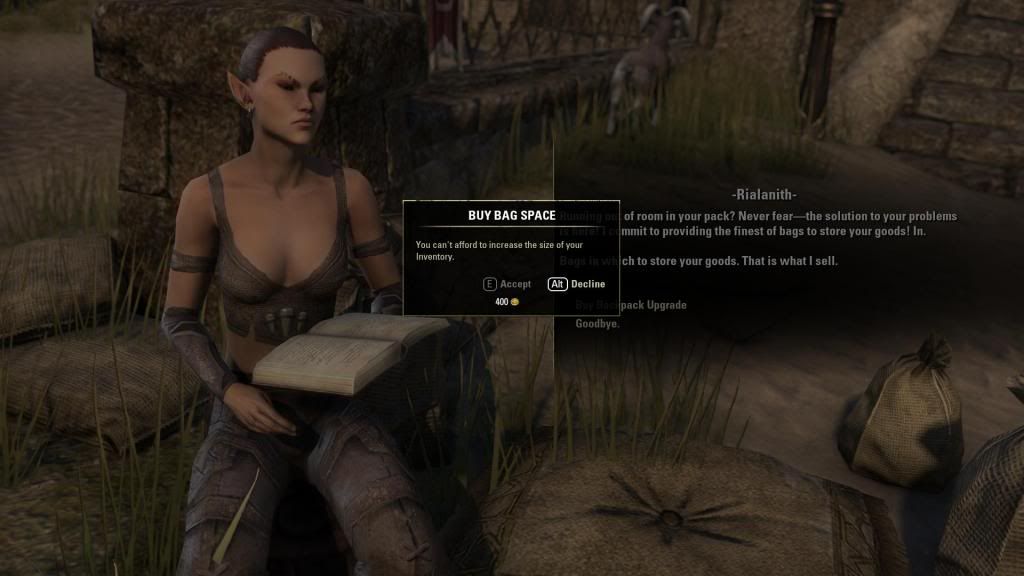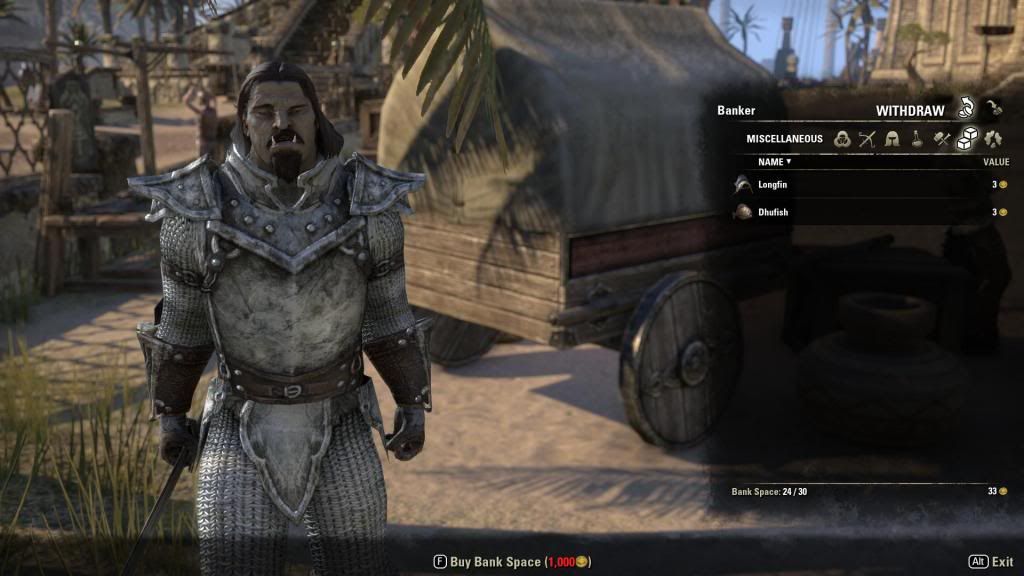 The bank is the same thing as the inventory storage - way too small with only 30 slots. And the price to expand is even worse with 1000 gold
Not to mention, finding the banking NPC is a task of it's own. Unlike most MMORPGs, in ESO only quest NPCs have an icon above their head, while not even all of them do. The banking dude you gotta find just by talking to everyone you meet


For both inventory and banking expansions, I don't know if the price paid is progressive when you buy more expansions. I also can't tell how far you can expand - I figure there's some limit somewhere...

Tomorrow I'll make a post about gathering and crafting. There you will see a lot of familiar things you've seen in the other Elder Scroll games as well

Post A Comment! :: Permanent Link

27 February 2014
This month Star Trek online celebrated it's 4th anniversary. And as with most MMORPGs that celebrate an anniversary, Star Trek online also had an event to go along with this milestone.

With my memories of Lineage II events, where mostly bots would benefit from it, in Star Trek online, this event was both fun and player friendly. Not that I have seen bots in Star Trek online (not even an android
), at least it's not an event where the player with the most 'kills' would get the most event items. Instead, this event has a daily (semi-daily with 20 hour delay) quest that would grant you 40 marks, while an other quest would give you a one-time 400 marks. When you'd hit 1.000 marks you could get yourself an event ship.

With one char (my Romulan one) I managed to get the 1.000 marks. Not all came from the event though. I (re)started too late with Star Trek online, so I missed half of the marks from that daily quest. Good thing though that you could bribe Q (yeah, that annoying being led the event
) with 5 Lobi crystals and get a couple of extra marks. Good thing I still had a couple and could get that 1.000 marks for my (new) main character.

The problem now is that my other character (the Federation one) is around 200 marks short. Though the event has ended, I can still bribe Q with the Lobi crystals for an other 2 weeks. The only problem there is that I'm now fresh out of those crystals and need to farm them
Of course, I will do my best to get a Voth ship this character as well, but I fear I won't be able to make it though...

And then the ship. It's one I can't use yet. It's a science ship (and my main is a tactical officer - not that that really matters though) for the 'subadmiral I' level. I'm not sure, but I think that'd be level 40. With my Romulan being level 26 now, it would mean that I won't be able to use the ship any time soon. But at least I got it already and have something to look forward to...

Post A Comment! :: Permanent Link

26 February 2014
It's one program on Steam that I've been watching for a while already, but never took the time to actually buy it. I know, it's been on sale for a couple of times already, and this week, RPG Maker VX Ace is on sale once again and this time with 75% off. And though I'm still working on TetraGems, I figured if I wanted to make a RPG as next project, this would be the best time to buy it.

And so, this morning I bought myself a copy of RPG Maker XV Ace, downloaded it (it's not even 300Mb in size
). Almost right after I bought it, my brother hopped in on Steam chat (he saw I bought it), and asked tactically if it was a purchase for his b-day next month (he has RPG Maker VX Ace on his Steam wish list). Well, the moment it shows on my Steam profile as bought, I actually have bought it and not dropped it as gift in my inventory. And with him using his wish list on Steam quite like I do (slightly interested), I didn't even think about asking how badly he wanted it. Well, he kinda told me that since I didn't buy it as gift on Steam, he'd buy it himself.

Now wait a sec bro!

I always have trouble getting a gift for your b-day. Mostly things you want you buy and forget about asking it for your b-day in the first place (I'm kinda the same as well
). So I told him NOT to buy it, but instead I'd buy it for him as early b-day gift for him. Though we're still a month away from his b-day, I decided to give it to him immediately so he could start playing with it immediately (and teach me later on how to use it, like I will teach him Unity3D
).

When I fired up RPG Maker VX Ace later today, I was a bit interested in the scripting language used. I heard it would be using Ruby and I wanted to make sure. And yes, it indeed does use Ruby as scripting language. Then I thought to check Spine if that would support Ruby, and it does. But I'm not sure how to use Spine with RPG Maker VX Ace (yet). But Spine having Ruby support is already a great PLUS - now it has moved to the top of my 'want-to-buy' list.

There is one thing though I will not buy for RPG Maker VX Ace though. That's the DLC that's available for the program. Though there are a lot of great DLC packages, I want to make my own RPG and not use some pre-made models (which is also why I checked if Spine would work with Ruby).

Post A Comment! :: Permanent Link

24 February 2014
I've said it quite a number of time, but I really have way too many games in my Steam library. By now I have lowered the number of bundles I've been buying already a lot, but that still leaves me with over 400 games in the Steam library.

The last couple of days, I've been going through a lot of the games I haven't played yet, and I now see why I haven't played them yet. I expected these games to suck, and well, they kinda do suck indeed, or they just won't run at all in the first place :(

By now I have gone through almost all of the multi-player shooters that are not MMORPGs, and aside from Awesomenauts I have removed them all. These removed games include Dota 2, Interstellar Marines (quite a new title), Magicka Wizard Wars and all the Sword of the Stars games. I mainly have removed them because of the community, cheats an the e-peen problem most players have. Not to mention, I'm not that competitive anymore to take part in this e-peen thing...

Then the single-player games... There are a lot of titles out there with kick-ass trailers and promotional videos. But when you look at the game-play itself, they're just BOOOORING. The best example of this are a lot of indie RPG games. They seem to promise a lot, but they just do not deliver to me as hard-core RPGer.

An other kind of single-player game that I've been removing lately are the so-called 'adventures'. Damn, I don't know what these days the definition of an 'adventure' is, but when I look at some, I think Mario (1 on the SNES) is an 'adventure' as well. Not to mention, a lot of those semi-hidden object games are labeled as 'adventure' as well, and that certainly is not what I'm looking for as game


There is also something positive on checking all the games 1 by 1. I find games I though would be fun and indeed are fun. Going through my Steam library like this also gives me a chance to find those 'hidden gems' in my library and actually play them

Post A Comment! :: Permanent Link

22 February 2014
Playing a Romulan character in Star Trek online is fun, but it also has a lot of Kobiashi Marus as well. As one can expect from a Star Trek game, the Kobiashi Maru choice is important. But as a Romulan, you're getting one of the hardest choices ever. Well, that would have been if you actually would have been a Romulan...

What's happening to the Romulan players? Around level 10 (Centurion), you have to make a choice for your allegiance. When the New Romulan Republic is founded, they made an alliance with both the Federation and the Klingons, but they vowed to remain neutral in their conflict. I wonder how one could stay neutral in a conflict that has been raging for centuries already, but the Romulans think they can do so. An assumption I doubt, because the Romulans used to be the 3rd faction in the neighborhood...

With the New Romulan Republic having two sworn enemies as allies, your character has to pick either side for it's future career. By doing so you'll remain a citizen of the New Romulan Republic, but you will also become a member of either the United Federation of Planets or the Klingon Empire.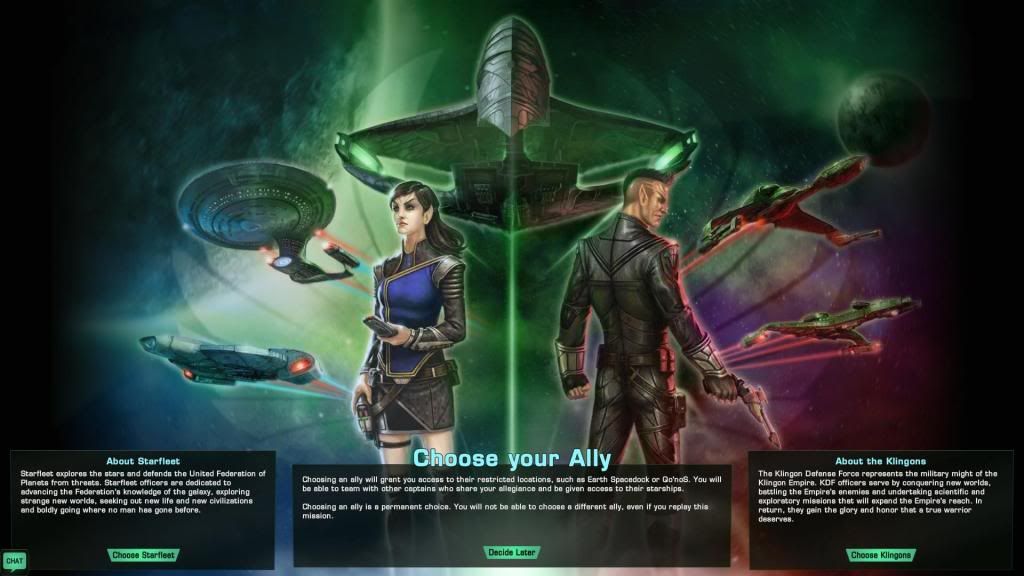 But what if you were a real Romulan? How could you pick either side, knowing that some of your old friends or even family would be on the other side? This would mean that in times of conflict between the Federation and Klingons you have to fight your own friends and family.

Nah, not something I'd be happy to choose. I would rather have seen that the Romulans would not have made that alliance, but instead remained their own faction. Gather enough Romulan colonies and become the old force you once used to be. The way it's now, it's quite like the Pandarian in World of Warcraft - a new race, but nothing really new added

Post A Comment! :: Permanent Link