05 December 2013
Last month I wrote that I'm sleeping bad again. I also thought to know what was causing it, but it seems I was wrong...

Now a month later I'm still sleeping extremely bad. The winter time has already kicked in, so that couldn't be a problem anymore. And the programming isn't really keeping me awake either (well, sometimes it does, but most of the time I can finish what I'm busy with). And yet I'm still sleeping extremely bad. If I sleep about 4 hours a night I can call it a 'good night's sleep' already
And as a result I am dead tired right now.

These days when I come home from work I'm too tired to play any games. I play a bit of Lord of the Rings online during the evenings right now, but not overly much either. I'm just too tired to concentrate on anything after work


And yeah, I hear you saying that I could play games before I go to work. Pretty much true, but I'd much rather use my mornings working on my game in progress. Though I do play a game from time to time in the morning, and when I do it's about an hour only (before the programming addiction starts to call
).

Right now I'm not sure if I should go see the doctor and get (yet an other) blood screen, but I think I know the results already: I'm healthy (like last time). And that's quite frustrating. My blood tells me I'm healthy, but I'm tired like hell. I guess it's mainly because of the lack of sleep, and the cause of that I know already

Post A Comment! :: Permanent Link

02 December 2013
I know, EGOsoft is currently testing the new 1.18 patch which includes a lot of trade fixes and only a small performance fix, but I'm giving up on it.

Aside from all the problems that X Rebirth shows, and the very pretty looks, the game lacks something compared to the older X Universe games, and in particular the X3 series that I have played. But sadly, I still can't put my finger on it. Perhaps it's just the disappointment of EGOsoft failing to deliver an even marginal playing game at release? Or is it the news that those who were able to play it (aside from all the bugs), you just are stuck to that one ship you start with?

Sadly though, still no refund from Steam, not any reply from the follow up I made to my earlier ticket, but I keep my hoped up though. One thing I'm sure of though - I'll never buy an other 'big' title again through Steam and most certainly I will never buy a game in pre-order either. Too many times this last two years developers have just delivered garbage

Post A Comment! :: Permanent Link

01 December 2013
Steam sales are always dangerous periods for a gaming addict like me. But this time with the autumn sale I'm getting grip on my purchases. That is, I'm not buying overly much and I buy only the REAL discounts.

The list of games I have bought is (still) pretty short:
Rush
Edge
The Witcher enhanced edition
The Witcher 2
Cities in Motion 2 - Back to the Past DLC
Cities in Motion 2 - Lofty Landmarks DLC
As I said, it's still not much
And for once these are games that I will actually play. Of previous sales I still wonder why I bought certain games in the first place


Then there's also DisplayFusion that I bought. Not a game but a tool to better handle multi-monitor configurations. And since I have 2 monitors on my system, using the 2nd when I'm programming, I thought this tool would come in handy (and it does).

Then there are two more games I still have on my wishlist and I hope they drop to 75% discount (or more):
Cogs
The Last Remnant
Cogs is one I will buy anyway because it's an awesome puzzler (I played the demo already). The Last Remnant I'm not too sure about. It looks like a neat game, but I already have so many RPGs and still have a lot of them to complete...


Post A Comment! :: Permanent Link

30 November 2013
Remember how bad my performance was with X Rebirth with the release and the first few patches? I have dropped that movie here again to help you remind how horrible it was. 10 to 15FPS and drops to 3FPS when moving around on certain places. That while both GPU and CPU were not really overly active and the CPU didn't even have any of the cores set to a dedicated task as EGOsoft said they should do.




With with yesterday's patch it seems that performance indeed is starting to improve as they promised. Though not much, the start is really made in fixing the performance bug. With my old saved game I had a nice start of around 18 to 22FPS when flying away from there. That compared to the 13 to 15FPS I used to have is an improvement of already 33%


When looking at the activity of my CPU, I noticed that EGOsoft also started on AMD machines and committing tasks to a dedicated core. Where in the past all 6 cores ran around 45 to 60%, now only 5 cores were running like that and the 6th core ran around 90% continuously. This only can imply that (as I suspected) part of the performance bug indeed lies in the AMD CPU architecture.

One bug still hasn't been looked at though. It's one I haven't mentioned here before, but I did report it to EGOsoft already. My SLI configuration is addressed in the wrong way (and I expect it's a general SLI problem). It's quite some technical talk to explain, but bottom line, the video processing goes through the wrong GPU and that has to be redirected back to the correct GPU that hs the monitor attached to it, and thus looking an extreme amount of performance. My guess is that this is one of the last performance bugs to be fixed by EGOsoft, and when it has been fixed I hope to see an immense improvement of performance.

For now, X Rebirth is pretty much playable for me already with that 18 to 22FPS in very crowded areas. I keep my hopes up for future performance fixes. Well done EGOsoft!


Post A Comment! :: Permanent Link

29 November 2013
YIPES! I wanted to post that EGOsoft finally has started working on the performance patch as Brent posted yesterday morning, but that one I'll skip for now... Oh well, lets post it here anyway
---
Update November 28th:

Since the last posting we have released two more updates 1.16 and 1.17. These two mostly focussed on improving stability and fixed a couple of bugs related to the non working trade offers. See release notes for details:
http://forum.egosoft.com/viewtopic.php?t=347278

Trade bugs

It turned out that the issues many of you are seeing with trade ships not working correctly is not one bug but a whole series of connected problems. After resolving the first issue with 1.17, more problems became apparent. This is the reason we are now testing the next patch 1.18 a lot longer than the other patches. We can not afford a very indepth test at this time, because too many of you are waiting for this fix, but things are looking good and chances are that this update will be available before the weekend.

I do not want to give silly excuses here. Of course you deserve a bug free game, but you may ask why these trade problems were not uncovered during testing: We had a group of testers dedicated to testing our economy over a long period of time. These guys used a special version of the game which allowed them to run the entire economy at a higher speed. It seems that most of these problems we now see did not happen with this time acceleration. Meanwhile these problems also do not happen early on in the game or if you (like most testers do) have to restart the game frequently.

Other features coming up next

• Fixed several causes of crashes in-game and when loading savegames.
• Fixed a specific problem resulting in periodic slow-downs.
• Improved general performance (first small improvement only, more to come).
• Fixed several problems with ship/drone docking/undocking behaviour.
• Fixed problem with player drone formations.
• Fixed several small localisation issues.
• Improved skill levels for new NPCs.
• Improved readability of entries in interaction menus.
• Improved GPU listing on laptops with multiple GPUs (still some driver-related issues on certain hardware).
---

Why not write about it..? Well, CBJ posted in the same topic Brent posted the above that patch 1.18 is now in Public Beta, and I'm very eager to test is.

Why test it? Not because of all the economic & trade bugs fixed, but because this patch actually is a start on the performance bug fixing. I hope that X Rebirth will now be more playable with this patch and that coming patches will improve the performance as well.

But well, I can only hope until I have actually tried it... So I decided to opt-in on the beta and play it. I'll keep my fingers crossed and my hopes up. I won't hold my breath though

Post A Comment! :: Permanent Link

28 November 2013
Imagine that you buy a TV in a store and it's broken. You can only use channels 1, 2 and 3 instead of all 100 that are available? You return to the store within the first week and you get a full refund. That sounds very normal, but yet Steam thinks differently when it comes to broken games they sell.

It seems to become quite normal that game developers launch broken games. I'm not only talking about X Rebirth now, but the last few years more and more games that are released at launch are very bugged up to the unplayable level. Just look at the launch of SimCity, Total War: Rome II and DayZ as well (just to name a few). Each and every game was broken up to a certain amount and players have been complaining about it by the 1000s. And only for DayZ Steam decided to pull if from Steam (it was a GreenLight title) and refund the players. In all other cases Steam (or Origin in the case of SimCity) just gave you the finger when you asked for a refund.

And they can easily deny you a refund. Your account with Steam (or Origin, uPlay or any other digital distributor) has become worth a small fortune over time because of all games you have bought, and when you cancel the payment for that one broken game, your account will be banned and you loose that small fortune.
Basically Steam holds your account as hostage by denying you a refund and every developer can create any piece of shit they want and take your money without delivering a good working game or a game with the features promised in the trailers...

It's just that Steam forgets is that they are yet an other store. And that from every purchase they do they'll get a percentile commission of the price paid for the game. This means, you and I as customers of Steam make it possible for Steam to exist and pay the bills for their hosting of all those games, cloud storage and such.

What if we would deny Steam the commission from our games and we just bought our games through 3rd party suppliers? It's not that Steam is the cheapest store around, and certainly not the best store when it comes to customer service (remember the broken tv metaphor I started with?). There are other stores that sell Steam keys out there that are even cheaper than than Steam. Not to mention newly released games normally go for the same price every where, or even with a small extra discount.

Yes, I'm talking about stores like GreenManGaming and the various ones on eBay. Buying through those storer will give you cheaper games (most of the time), and better customer service (most of the time - I have very good experiences with a couple on eBay).
Just take a look at GreenmanGaming. They tend to hand out 20% and 25% discount vouchers every weekend that can be applied on certain games. The last few weeks that I've taken a look at the list of games that you can use with this discount did include new and upcoming (pre-order) titles. And that on top of an already existing discount they had (10% mostly for upcoming titles).

An other more importantly, when you really get your hands on a game that's broken to the core you can more easily cancel the payment without the fear of loosing gaming library and thus your small fortune. Obviously, you should first try to contact the customer service of that store first


Bottom line, I would advice to no longer buy games directly from Steam, unless they are dirt cheap (like the autumn sale that's running now) and instead go to those 3rd party stores. I will most certainly do this from now on and give Steam the finger back they gave me after the whole failure of X Rebirth. This really was my last big purchase with them and they won't see an other large commission from me every again!


Post A Comment! :: Permanent Link

27 November 2013
Looks like Steam , EGOsoft and it's moderators are showing their very ugly faces now. People are revolting on the X Rebirth Steam forums about bugs, performance and want their money back for the crappy piece of shit that EGOsoft has released recently by the name of X Rebirth. To help in this matter I made a tweet earlier today and asking on the forums to retweet this as much as possible...

@steam_games should #refund everyone who bought @EGOsoft's #XRebirth. Game is buggy and has serious performance issues! #RETWEET PLEASE!

— DemiGoth (@DemiGoth) November 27, 2013

As expected, the mods were not amused and when I tried to access the X Rebirth forums on Steam later on I found out that I was banned...



Way to go guys *NOT* Only way to get me away from your forums is by granting that refund that I've asked for and which is already 'on hold' for the last week or so. This while an other game with similar problems (Ashes Cricket 2013) did pulled already from Steam sales, while X Rebirth is milked to death.

As said before, and I will say it again, X Rebirth is a piece of shit. It's bugged to hell and performance issues makes the game totally unplayable. Not to mention, each and every promise in the trailers hasn't been met in the game, meaning EGOsoft committed fraud with this game. Instead they're now using us (paying customers) as alphe testers and hope to fix this piece of shit in the coming months...


Post A Comment! :: Permanent Link

27 November 2013
Okay, I'm definitely no first person player and definitely not a shooter either. Actually, the only FPSs that I really enjoyed to play were Half-Life and BioShock. Though the latter I have never really played through most of it's content


But it looks like it's time to add an other game to my favorite FPS list. This one was free to play last weekend on Steam and though I didn't really play it (and died horribly more than once
) I decided to buy it for that €4.95. I'm talking about Rage here...




The intro movie already shows some promising story that might unfold. And well, I didn't see much of it at the free weekend during that 90 minutes that I played, the game did feel okay to buy anyway. It shows a large post-apocalyptic world, but at least not one with only death and despair (like FallOut series). It feels more like a survival game though (like the Fallen Earth MMORPG).

So far going through the game halfway the first mission (kill all the bandits at their house), I've been collecting lots of stuff already. A lot of crap that's worth for nothing but as vendor trash (also worth to note that a lot of this vendor trash has extremely fun descriptions). But I have also picked up some trading cards for a mini-game that seems to be out there (could be fun
) as well as a couple of things that are labeler 'ingredient', meaning I can make my own stuff, right..?

And the world... Sadly there's no map, so I cant comment on how big it is, or if it's open (like the Elder Scroll series). But the world does feel big, and that while I've been driven from the pod to a tank station, and have driven myself from there to the bandit's hideout. I think that feeling of a big world already should give a good impression (I hope
).

Then there is the graphics... I can only WOW. And I think I should because the performance is extremely good as well.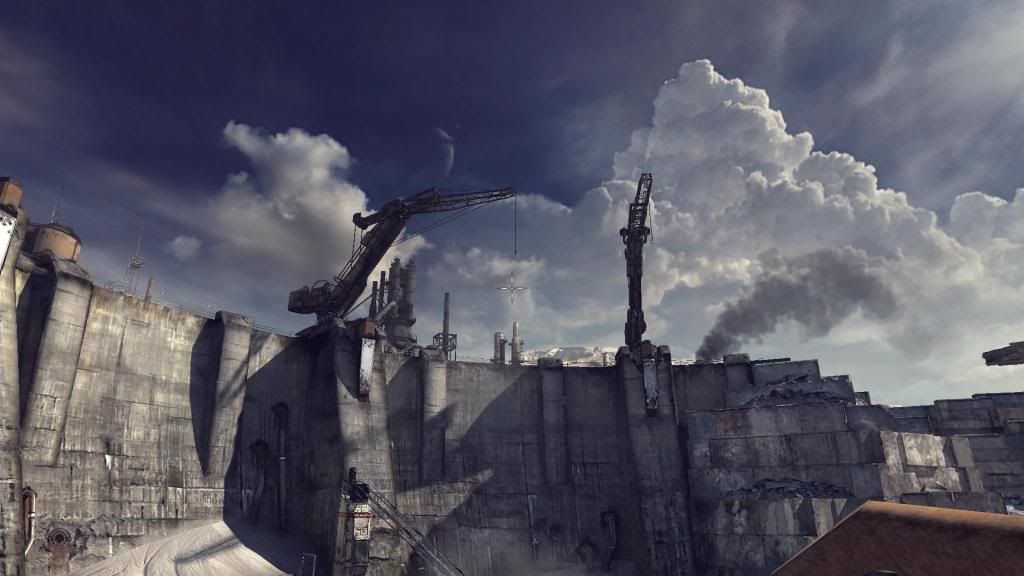 The reason for this extremely good performance with the high graphics is obvious (at least to me): it's not utilizing MicroSoft's DirectX, but instead it's using OpenGL. This means that the game utilizes the power of the GPU directly and thus more can be achieved on a graphical level.

But as I started... FPS is not my kind of game and I suck big-time in playing them. But I will try to get as far as possible in this one. It certainly did peek my interest after having played that 90 minutes already

Post A Comment! :: Permanent Link

25 November 2013
Like many, I have been very unimpressed by X Rebirth's performance. And so far EGOsoft hasn't said a word about what the performance bug exactly is, other than that they have identified it. Aside from my thought that the AMD CPUs are part of the performance bug, I have also identified a bug concerning SLI systems, where the video signal is not sent through the main GPU but to the alternate one, forcing the PC to loop the video back to the main GPU again, loosing lots of performance...

That said, the modder community is busy as well to increase the performance of the game as well as remove lots of annoying features. There are a couple of mods I think that need a closer look:

No Stardust - removes the stardust when flying. Though not much of a performance impact I think, removing it might increase FPS by a little. And for all those players that really suffer from the 15-20FPS cap, every increase is welcome!
No fog - removes the foggy nebulae from the screen. I don't know how much performance the fog eats, but I bet installing this mod will boost your FPS by at least 5. Because everywhere I've looked (for as far as I've flown in the game), there's fog to be seen. Though it might be harder to harvest the nebula later on, until EGOsoft fixes performance this one might be a real performance saver!
Reduced MassTraffic - lowed the traffic around stations by 50%. Damn, this one is one that is a MUST HAVE for everyone with performance issues I think. The amount of (useless) mass traffic around stations is HUGE. And why is it there? Only to look like a crowded station. Remove all those useless pixels (or half with the mod) and your performance will most likely go up BIG-TIME!

Other mods that are worth to take a look at, but don't really improve anything are:
NESA - Never Enter Station Again. Though stations and their population are a nice idea, they do not add anything to the game, so why enter them again and go back to the X3 way? Just call the station and speak with the person you want to. Only down side though is that stations do have hidden caches that are yours for the picking. If you use NESA, you might miss out on some free loot...
No more Grandma in Space - not one very needed, but just looks awesome. Why on earth did EGOsoft add those over-ages old women to the game? This mod just makes them look more appealing


There are dozens of other mods that are really worth to take a look at. And it makes me wonder why EGOsoft is having so much trouble with the game to fix all the issues they find, while modders just go their way and fix the issues EGOsoft is having on a rather simple way..?

Lets wait a couple of days more and hope more fixed from EGOsoft's side as well as m ore (and better) mods to increase performance. As the game is now I'm not playing it and I'll wait a bit longer for feedback by others before I start using the mods. Not to mention, I still have that refund request ticket open with Steam. I really much rather get my money back and move on than to be forced to play a game that's broken to the core...


Post A Comment! :: Permanent Link

24 November 2013
There are lots of times when I'm behind the computer and both my GPUs are idle and the same thing also happens to all 6 cored of my CPU. This mostly happens when I'm browsing and programming and I figured to put the idle GPU/CPU power to some better use...

Where in the past I used to donate my GPU/CPU power to SETI@home, this time I decided to make money with it - virtual money. Now that Bitcoin is a hype and the virtual currency tare goes like a roller coaster (it was worth €900 per Bitcoin earlier this week), I figured that mining the Bitcoins would give me some 'money' back while I am busy programming.

Some money... I think I've put that right
Right now my system has been mining for about 2 hours and I have earned about 0,000015 Bitcoin. At the current rate that's almost €0.01
On the other hand, I can make fun of that whole cent I've earned, but if I'm programming and not mining the currency, I'd not make any money at all.
Further more I have no idea what happens when I actually find a block on my system. Will I get more Bitcoins as reward, or will it just be shared with the others in the pool I'm in?

Well, bottom line, I'm not going to be rich from mining Bitcoins, that much is certain. But at least I can make some savings this way and hope to 'hit the jackpot' one day...


Post A Comment! :: Permanent Link